MONTHLY VIRTUAL PROGRAMS 
Next Event: Guiding My Heart To Joy!
Date: Thursday, March 11, 2021
Time: 7:30 PM Eastern Time
Link: https://us02web.zoom.us/j/85613477957?pwd=dDFJRGIwQURGUzkveWFRbllRY2tNQT09 
(Meeting ID: 856 1347 7957, Passcode: chabad)
- - - - - - - - - - - - - - - - - - - -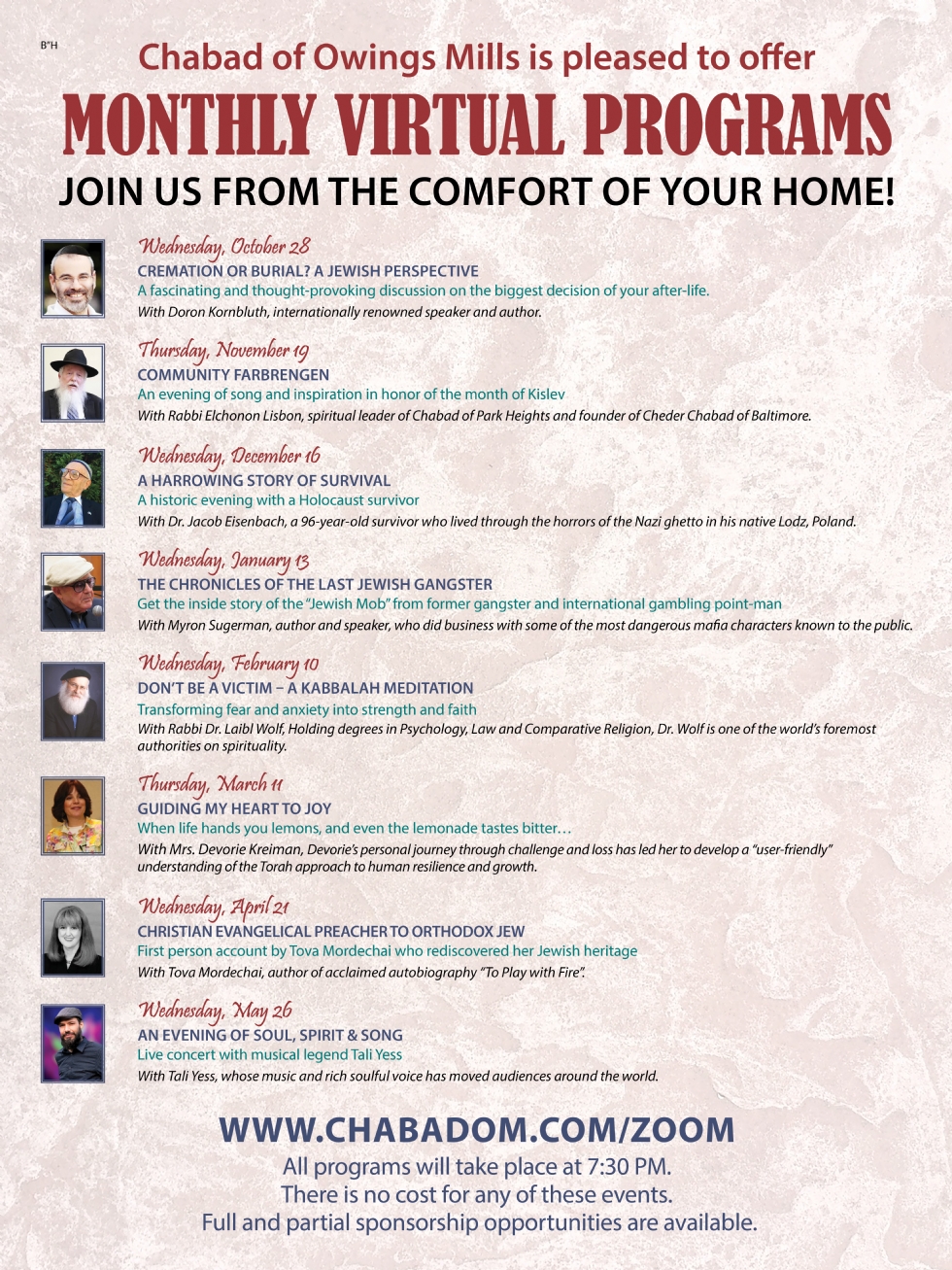 - - - - - - - - - - - - - - - - - - - -
PREVIOUS EVENTS
Thursday, June 25, 7:00 PM
Farbrengen: Transform and Transcend
We are having a Farbrengen in honor of the yahrtzeit of the Rebbe. Senator Joe Lieberman, Sivan Rahav-Meir, and Rabbi YY Jacobson will speak about the Rebbe's vision of a perfect tomorrow, starting with a personal transformation today.  
-----
Thursday, July 2, 7:00 PM
Songs of the Yearning Soul
Join us for an evening of Hassidic melodies and their stories of distance, hope, and renewal. We will be joined be a live cello performance.
-----
Thursday, July 9, 7:00 PM
Unorthodox - The Inside Scoop
A no-holds barred Q&A with Mrs. Rivkah Slonim. Get honest (and perhaps unorthodox) answers to your questions.
Rivkah is the education director at the Rohr Chabad Center at Binghamton University, and self-proclaimed "Chassidic feminist".
-----
Thursday, July 16, 7:00 PM
From High to Chai
Join us for an inspiring and entertaining multimedia story and presentation. Rabbi Motti Flikshtein will speak about his transformation from a secular, drug-dealing rapper, to becoming a shliach in Delaware. 
-----
Thursday, July 23, 7:00 PM
A Survivor's Story
Avremi Zippel, Chabad Rabbi in Salt Lake City (Utah), will share his personal story of overcoming years of sexual abuse.
-----
Thursday, July 30, 7:00 PM
Tisha B'Av
Tisha B'Av is the saddest day in the Jewish calendar, as we mourn the destruction of both our holy Temples. We will have a special program to mark this most important day.
Join us for a presentation on "The Archaeological Claim to Jerusalem" by Rabbi Avraham Stolik, AKA The Jewish Indiana Jones. 
-----
Wednesday, October 28, 7:30 PM
Burial or Cremation
A fascinating and thought-provoking discussion on the biggest decision of your after-life. With Rabbi Doron Kornbluth.
----- 
Thursday, November 19, 7:30 PM
Community Farbrengen
An evening of song and inspiration in honor of the month of Kislev. 
----- 
Wednesday, December 16, 7:30 PM
A Harrowing Story of Survival
A historic evening with a 96-year-old Holocaust Survivor.
-----
Wednesday, January 13, 7:30 PM
The Chronicles of the Last Jewish Gangster
Get the inside story of the "Jewish Mob" from former gangster and international gambling point-man. 
-----
Wednesday, February 10, 7:30 PM
Kabbalah and Meditation
Transforming fear and anxiety into strength and faith. 
----- 
Tuesday, February 23, 7:30 PM
Virtual Purim Class for Women
Join us for "Queen Esther's Untold Story in the Palace" with scholar in residence Rebbetzin Goldie Gansbourg.
-----